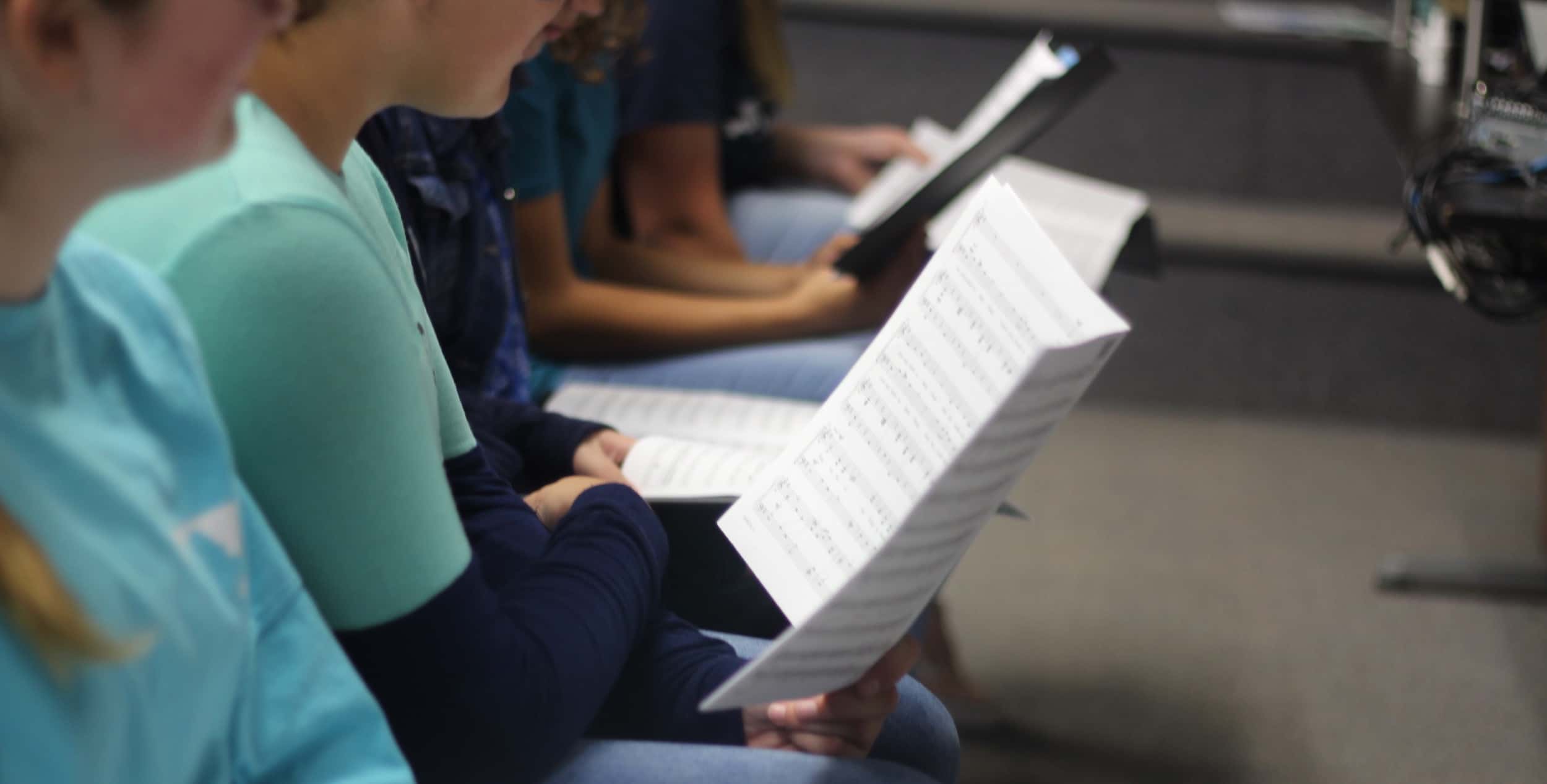 Choral music at Holly Grove Christian School has a long tradition of musical excellence. Music plays a very important role in the lives of the students at Holly Grove. Our mission is to glorify God by instilling in our students a love of music, an appreciation for beauty as expressed through music, and developing the God-given talents of each student. Through community involvement, musicianship skills, and a focus on faith, these students have ministered through music to countless individuals.
Their stewardship in the surrounding areas along the Eastern Shore of MD and VA, along with high expectations, has allowed them to develop a strong sense of camaraderie within our choirs. They consistently receive superior and excellent ratings at both district and state festivals, and are chosen for invitational choral competitions and performances along the east coast. Holly Grove Christian School is also a member of the Tri-M Music Honor Society, which focuses on creating leaders in music education and music advocacy.
Honors Choir
The Holly Grove Christian School High School Choir is an auditioned choir made up of 65 singers from grades 9-12. They have performed and ministered in music throughout the Eastern Shore, across the state of Maryland, and in Pennsylvania, Delaware, New Jersey, New York, Tennessee, West Virginia and Virginia.
The High School Choir has:
been the back-up Choir for Michael W. Smith "Hallelujah Tour" Salisbury, Maryland (internationally-known artist)
performed (by audition) at Camden Yards for the Baltimore vs. the Boston Red Sox
performed for the Washington Wizards Vs. Philadelphia 76'ers at the MCI center
earned superior ratings (multiple years) in performance and sight-reading at the ESCDA Regional Choral Festival for public and private schools
participated in the Maryland State Choral Festival at Morgan State University multiple times
given music assemblies and/or chapel services in schools in Virginia, West Virginia, Tennessee, Maryland, Delaware, Pennsylvania, New York and New Jersey.
performed in the MAGI Choral Festival to raise money for the homeless and less fortunate of our region (over one million dollars raised in 15 years by this annual concert).
sang in a TV broadcast Christmas Program in over 400,000 homes over the past nine years
been awarded 1st Place in the Pocomoke Christmas Parade and the Crisfield Christmas Parade
been awarded best overall Choir at Six Flags, NJ, Busch Gardens, and Hershey Park
performed in many of the churches throughout the Delmarva Peninsula
assisted many community organizations in raising financial support
Junior High Choir
The Junior High Choir is open to all 7th and 8th grade students. This choir has repeatedly received superior ratings at the ESCDA Choral Festival participation with all the public schools in the region. They have won first place in the Mountaire Farms Gospel Talent Search and 1st and 2nd place trophies at the annual Busch Gardens Music in the Parks. They have ministered in many churches throughout Delmarva.
Youth Choir
The Youth Choir includes all 4th, 5th, and 6th, grade students. This choir performs annually at our Christmas concert. They have won first place at the Busch Gardens Music Festival and have performed in many churches in the region. Students learn basic notation including notes, rests, time signatures, and note placement on both treble and bass clef staves.
director
Brittany Lewis is the Music/Choral Director for grades 4-12. She also teaches general music courses for grades 7 and 8, as well as a Music Appreciation course-open to grades 9-12. She joined the staff of Holly Grove in 2016. She has studied musical education and choral directing at the University of MD Eastern Shore, where she was also the Jazz Band Vocalist for two years.
Before coming to Holly Grove, Brittany taught both piano and voice privately for six years. She is also currently the director of the adult choir at Salem United Methodist Church in Pocomoke, where she has been directing for six years. She has performed in many concerts on the Eastern Shore singing her first passion: Southern Gospel music. She enjoys ministering to others through music and likes to share her testimony, hoping that it will bring others to Christ. She is also a soprano and sings classical opera. Brittany is a member of the Maryland Music Educators Association as well as the Eastern Shore Choir Directors Association.
You can reach her at blewis@hgcsweb.com